It gave me great pleasure to have a chat with New Jersey native, record collector, DJ and fellow scenester Bill Luther. Bill was around during much of the early heyday of the mod/garage scene and gave me his thoughts about those times from a distinctly NJ point-of-view.
SSA: Thanks Bill for taking a moment to share your memories of the NY/NJ Scene in the mid-80s. First off, when did you find out about this and who introduced you?
 BL: My whole awareness of what was going on in New York City came because of Mod Fun. Their lead singer Mick London used to guest DJ on a local College radio station in Princeton near where I grew up and I read a lot about his band in local music papers. I got in touch with him through the radio station and eventually went to see them play live at Princeton University in 1984. In fact, their debut 45 was always being played on the local college stations WPRB and WRSU. Through Mick, I became aware of what was going on in New York City and by late 1984 my friend Rudie and I began making pilgrimages there to go to gigs that Mick would tell us about and sometimes even mail us flyers for.
Except for the bands that made their way to NYC, I have to say I'm totally in the dark about what happened across the river. Can you tell me more about the New Jersey Mod scene? Was there bleed over from Philly? I also recall that skinheads were pretty active around that time as well.
I lived in a part of NJ that was closer to NYC than Philly so other than The Ravens I didn't know of anyone from Philly in the 80's. But I had a small little community of sorts with the Wojciechowski and Grogan brothers just one town away. We would all make these road trips to the Big Apple which, barring traffic, was an hour and change away. Later, after the Dive in '87 we met loads of people from Harrisburg PA where there was a great scene with a whole lot of amazing bands like The Pallbearers, The Cool Italians, and The Cellar Dwellers. The latter two played the Strip and Tramps quite a few times. Skinheads were around at ska gigs and this NYC mod band called The Scene had a really big skinhead following, not the racist sort but there were young guys who—being skinheads—thought it was their duty to try and act like hard cases. That wasn't fun. Especially because I was never a Fred Perry, porkpie wearing cookie cutter mod, so I avoided those gigs.
Where there any groups that you recall that never made that trek that you regret not getting a larger audience?
There were a lot of bands in my area of Central New Jersey but they were all bedroom bands, basically bands that played at parties or in people's basements or shitty makeshift clubs. There were two really good bands in New Jersey who I don't think ever really crossed over into New York. One was band called Lord John who had a very new-wavy Echo & the Bunnymen kind-of-feel about them but they were definitely very psychedelic and an excellent band both live and on record. They played The Strip once and did an amazing gig at The Mind's Eye at Tramps with the Captain Whizzo Lightshow which was perfect for them. And from the same area of central New Jersey there was a band called The Laughing Soup Dish who unfortunately I never got to see live but they made an amazing single for Voxx records called Teenage Lima Bean that was a cross between the Pink Floyd and 13th Floor Elevators. I don't think they ever made it to New York City either. And then there was a band who inspired both of those bands called Secret Syde who were very dark and hard but basically reminded me very much of The Prisoners from England but without a keyboard. Unfortunately I never got to see them live either because they sort of imploded by the time I came onto the scene.
A little known fact is that a small scene also occurred at the Bicycle Club in NJ. That was über-fan Martin Splichal's basement wasn't it? Can you tell me what that was like? Did any bands of note play there as well?

The Bike Club was started in Martin's parents basement in Red Bank New Jersey in around 1985 with the PA system borrowed from the Woiciechowski Brothers (who at the time had a mod band called The Thursday Club). Martin had several bands including my own band The Phantom 5, The Thursday Club (whose members, brothers Dave and Bob, would later form The Insomniacs), Mod Fun as Lobster Fun (after Mod Fun had broken up!) and then a couple of other little local bands. I believe a band called a Shock Mommy's played there once consisting of some former members of The Laughing Soup Dish; and Mick London once did a solo gig there! And that stayed happening for until Martin's parents sold the house, it maybe lasted a year but definitely less than two.
Can you tell me how you wound up playing in the Tea Party and Phantom Five? What was the chronology there?

I formed the Phantom V with the Grogan Brothers: Larry and Chris and later their youngest brother Vince. It was just an idea to knock some stuff around. I met Larry through his fanzine "Incognito". We both had fanzines and lived literally a town away from each other. Despite this we were completely unaware of each other's existence until coming across each other's fanzines in a record store in New Brunswick New Jersey run by Jim Babjak from The Smithereens. I finally met Larry for the first time at a Mod Fun gig at the Dive in 1985 and we became friends immediately. The Phantom 5 started playing in around 1985 but we never really played any actual real gigs mostly the Bike Club and this pay-for-play place in Rahway New Jersey called the mod Art Studio where lots of other bands played, coffee houses and even a youth club!!. I left the Phantom Five at the end of 1986 a few months after our E.P. on Mick London's Making Tyme label. I'm not even sure why to be honest with you but within a few months of leaving I got together with Dave and Bob Wojciechowski whose band The Thursday Club had recently fallen apart. Mike Sin and I had been looking to form a Merseybeat influenced band for quite some time and Dave was a prolific songwriter so he and Bob had quite a back catalogue of originals to work with and no band so it was almost like a ready-made band! We played NYC once on a week night at Tramps with the Optic Nerve and the rest were just lame gigs at their college in New Brunswick. I stayed with them until almost 1988 and then a year later they became The Insomniacs.
There was a definite separate NY/NJ contingent but despite some differences in tastes we all seem to co-exist in relative calm. Possibly the whole "us" vs "them" mentality. I'm sure you got hassled as much for what you wore as many of the NY people did!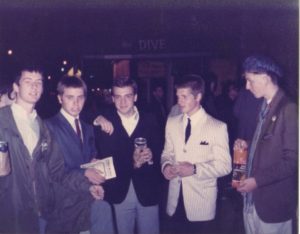 The really interesting thing is the whole us/them thing in New York only actually came from really hard core mod people that I met in NYC 1985! They seemed to regard us as sort of hicks and were especially hostile when Mod Fun started to become more Sixties Paisley psychedelic and less Jam/two-tone shoes. It was ridiculous because theres about 20 mods in all of New York City and Northern New Jersey. 10 of them hated everyone from New Jersey and anything not Jam/2-Tone etc. Pretty laughable in retrospect. We used to joke and call ourselves psych mods because that's what they called us as an insult and took it as a badge of honor and we'd call them Jam mods. I think I recall detecting a certain level of snobbery among some of the New York garage scene people at first but I think once everyone got to know each other things were alright. I was pretty socially awkward back then and I was not extremely outgoing and there were people that I would see around for years before I ever got around to actually learning their names like you, Jeff Shore several other people among them! It wasn't snobbery with me, I think it was just being completely shy and socially awkward!
I remember seeing the scooters and parkas when I used to go to Mod themed shows at the Dive. That really impressed me. I always wondered how they got through the Midtown/Holland tunnels…
Any of the mods I knew with scooters all lived in Northern New Jersey so it was relatively easy for them to get into Manhattan via the Holland or Lincoln Tunnel. I don't think I knew a single mod in NYC with a scooter! I lived in central New Jersey and there was no way in hell I was going to ride a scooter all the way to New York City. I took my Vespa to Hoboken once and it was like Death Race 2000 getting there!
It bears repeating how hostile NYC in general was to not just the music but pretty much everyone who looked different. It's hard to comprehend when you look back. What about that brawl that occurred outside the Southern Funk Cafe, next to the Port Authority? Do you mind putting that incident down for posterity?

The Southern Funk Cafe legend, interesting story. This was recently the subject of a roasting I received at my surprise 50th birthday party last year and its semi-legendary. Larry and Chris Grogan and I were standing in front of the Southern Funk Cafe in like September of 1986 which was around the corner from Port Authority on 42nd St. We were drinking beer in front of the club out of paper bags directly across the street from a seedy SRO hotel called the Holland Hotel. A cocky young African-American gentleman sauntered past Larry and slapped him in the stomach and said something to the effect of "Hey fat boy " or something like that, words were exchanged and then Larry and this gentleman wound up in a brawl. Chris attempted to break it up and then, well, without sounding racist it basically turned in to " jump on Whitey" and several people from the welfare hotel across the street basically came over and started beating the shit out of all three of us. I jumped in to help out and wound up with a nice goose egg on my head after getting bounced off the hood of a Cadillac. We got our asses kicked but we gave as good as they did and I think it was honestly 8-10 guys against the three of us. Eventually the cops showed up and basically said either everybody goes their own way or everybody goes to jail. It was pretty funny until I got home and realized this wasn't a brawl with the jocks in my High School lunchroom this was the real world! Luckily, that never happened again. To be honest I don't think I went to many gigs there after that, because I don't think there were really too many more happenings, but it certainly wasn't avoiding it out of fear.
I'd love to hear about your fanzine Smashed Blocked and how that came about. How many issues did you put out? The fact that it wound up in Teal Triggs' controversial 2010 book, Fanzines as a Mod artifact was pretty surprising.
My fanzine Smashed Blocked was directly influenced by seeing Mick London's fanzine Start. My friend Rudie Rosinski and I started a fanzine called Stranger Than Fiction (named after a song by the British neo-60's band The Times) but after some minor disagreements I decided to go and start my own. Smashed Blocked ran intermittently from 1984 to 1986 with a brief return in 1989 and again in 1994. It was fun, ragging on bad records, not spelling properly, bad grammar, last minute crap written in pen before going to press. Fun stuff!
I know you had a great friendship with scenemaker Ron Rimsite from the late great Venus Records. He, along with a few other characters, really made the scene very special and entertaining. I think there are probably as many stories about him than, say, J.D. Martignon. What's yours?

Ron Rimsite was my Guru! Like everyone I met Ron through Mick from Mod Fun. I immediately connected with Ron and he rather generously made me several cassette mix tapes which to this day I still treasure. These turned me on to a host of obscure British Sixties as well as European and Australian music. Many of the cuts were from Ron's extensive record collection. Whenever we would go to Venus records Ron would always point out cool records and more times than often when we would check our bags we would leave the store to find he had slipped a few things in there.  Everyone I knew in my world (except for Larry Grogan, the Mod Fun guys, and Mike Sin) seemed really put off by him. We were the only ones that actually really loved Ron! My favorite Ron story was probably the last time I ever saw him. I had a massive house party in a large old Victorian duplex that I was living in at the time in Lawrenceville, New Jersey around 1992. Ron drove down and showed up with a handful of 45s from his collection, handed them to me and said "I didn't bring snacks, will this do?" And Ron was his usual entertaining and sometimes gregarious self . I remember a lady who shall remain nameless talking to him and Ron standing there and not even feigning interest and saying things in his nasally North Jersey accent like "Wow, that's amazing" while staring off into space without blinking and the gal was completely oblivious and just kept on yakking. At the time I didn't realize that a lot of the 45's he gave me actually were quite valuable which made me appreciate him even more when I realized how generous he was. I've always wondered what happened to Ron because quite honestly he is really musically responsible for the music fan I am today. True story. If you out there Ron, I love you man!!
As a Latino who loved rock and roll, I know I felt a bit out-of-sorts in the general populace, but the garage folk and the mod folk were always very open and welcoming. I know my African American buddy Larry M. also felt similarly. It was one of the reasons we hung out as much as we did at these places. A sense of belonging—by NOT belonging.
I have a funny story about Larry M. I had an African American co-worker of mine who wanted to come check out the Dive so I told all of my friends that "hey this friend of mine from work is coming out tonight, he's as black guy in a probably be wearing a peacoat his name is Keith if you see him you know introduce yourselves to him". Well Keith never showed up but the funny thing was Larry did and he was wearing a peacoat because he had just gotten out of a Maritime Academy so all these friends of mine were walking up to him asking him if he was Keith and that's how we met Larry! I really don't recall ever seeing any sort of weirdness although it must have been very weird for Larry because I don't think I really saw anyone African-American at the Dive before. Some of the mod/ska gigs in New York City were completely the opposite in fact what always interested me was most of the mod scene in New York City was made up of non-caucasian people!
Your scene days came to a close as you left for the army, but not your passion for the sounds. Its one of the things I can say about most of the people I knew during that time. We all moved on to separate lives yet there is still that passion in the music. Thanks Bill!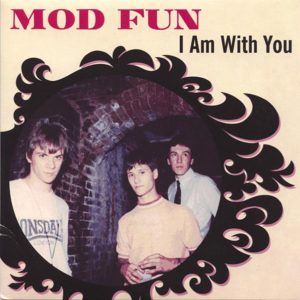 P.S. As if that wasn't enough to convince you of the man's dedication he also single handedly financed a reprint of the first Mod Fun 45 which you can pick up for a mere bag of shells here. I also encourage everyone to check out Bill's blog on awesome 60s sounds. Anorak Thing.