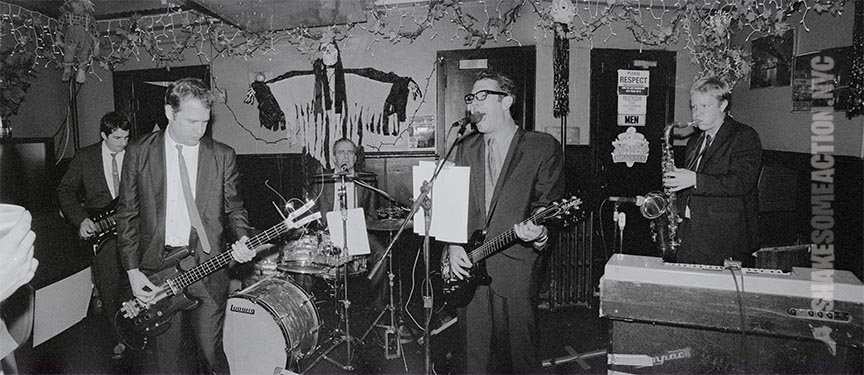 During the 90s while Manhattan was undergoing massive changes, many musicians and artists took refuge in the low-rent, decidedly sketchy areas by the Williamsburg Bridge. As expected, within a few years the area became a small breeding ground for various types of  cool music, Garage Punk being one of them.
Central among the watering holes favored by cash-strapped punks was Rosemary's Greenpoint Tavern. An old-school joint where owner Rosemary Bleday held court and served locals for decades. Decked out with a supremely coiffed beehive, Rosemary was the stereotypical NYC tough lady with a heart of gold. A quality that endeared her to many. Most especially to the young musicians who had begun to call this area home.
Among those admirers were pop punks the Vacant Lot. Formed after the demise of legendary NYC garage rockers The Rat Bastards, the Lot took on a more melodic pop direction while the remaining ex-Bastards became the Devil Dogs. Delving deeper into the harder, in-your-face, garage sound.
This brings us to the What IV. An alias of the the Vacant Lot, the What IV was the defacto house band at Rosemary's for several years. Existing between 1997 and 2005, the band consisted of Lot members Pete Ciccone, Mike Hoffman, Chris Raymond, and Greg Ginter. Rounding out the lineup was local pal, Karl Meyers (Main Drag Studios owner) on keys/sax.
As Pete relates "Rosemary asked us for years to play there, but the Vacant Lot was way too loud, so we created this band, which was all garage / beat / frat / eurobeat to play at a more barroom sound level. We played every holiday there for years, (Halloween, New Years, Valentines Day, etc.) along with a couple of other local bars and a few NYC dives like Siberia – avoiding clubs. We would do 5 or 6 sets and the start over once we ran out of songs or beer!" The project soldered on until all the members eventually moved out of Brooklyn.
These days Rosemary's still stands. And from what I understand, still serves beer in styrofoam cups (for now). A perk many of the privileged folk who now live in that area probably find very "authentic".