While the local groups I tend to focus on this site tend to lean towards the bands loved by the garage music followers of Manhattan, Jersey, and L.I., I often get the urge to feature other areas. In fact, quite a few East Coast groups happened to make their way through NYC during the 80s heyday. Some stuck around for a few years, others just as quickly toured and disbanded. While band styles varied wildly, the one thing all the bands shared was an intense desire to play "NYC". A sentiment mirrored by locals that welcomed not just the new sounds but also people who shared the same interests as them. Something quite special in the pre-internet age.
Despite the fleeting nature of touring, these groups had just as much of an influence on the tri-state scene than one might think. While most came from neighboring states like Pennsylvania, Connecticut, D.C., and Massachusetts, every once in a while we would be treated by some bands who made the long trek from Canada.
The Gruesomes were one of those bands. Hailing from Montreal Quebec, the band instantly gained a strong local following after the debut of their first album, 1986's Tyrants of Teen Trash. Due to their irreverent stage show, and relentless touring (as well as excellent songs) the band slowly began to get noticed outside of Canada. Their increase in popularity dovetailed into the release of their sophomore effort Gruesomania in 1987.
Soon after finishing the album, original drummer Eric Davis departed and was replaced by John Knoll. Without missing a (ahem) "beat", the band soon embarked on their first tour of the USA. On Wednesday, May 20, 1987, the Gruesomes hit NYC and took the stage of Tramps at it's original 15th St. location, sharing the stage with NYC's Headless Horsemen.
When recalling this time bass player John Davis said "The Gruesomes show at Tramps (The Mind's Eye) was our first ever gig in NYC. It was also our first gig with our new and understandably nervous drummer, John Knoll. We found the NY audiences, more than Montreal, to be very knowledgable about our source material, loudly commenting on each song as it was announced. We appreciated their wisecracks and banter with the band. We were delighted to see that the Headless Horsemen, whose records we always loved, were also funny and irreverent onstage like us! We have remained good friends with them to this day.
It was a source of pride for Montreal bands to get a gig in NYC – playing there gave us bragging rights back home on the local scene. We have played NY many times since, and have always had great memorable shows."
As John mentions, the band returned several more times to the New York area and played Cavestomp! sponsored shows at Westbeth Theater in the West Village and The Village Underground.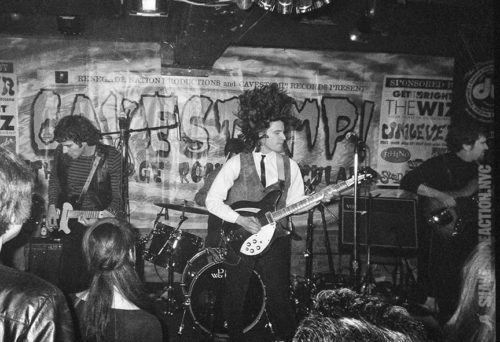 Showing no signs of stopping, The Gruesomes have a 45 coming out in Spain and will be touring there from Feb 27 to March 9, 2020.
Alas, much like matters of the heart, that first experience always refuses to fade away. So, here in glorious monophonic sound is a song from that Spring night set in 1987 which gives you a taste of what the early young band was capable of…even with a nervous drummer.
Full Setlist: Je Cherche [Les Lutins], Cry in the Night, (Theme from) Bikers From Hell, Til The Following Night [Screamin' Lord Sutch], Unchain My Heart [Ray Charles/Undertakers], Leave My Kitten Alone [Little Willie John], You Broke my Heart [The Vibrators], That's Your Problem [The Outsiders], Bloodhound [Downliners Sect], Jackknife, Get Outta My Hair, No More Lies, Til the End of the Day [The Kinks], What's Your Problem?, I Never Loved Her [The Starfires], I Can Tell [Johnny Kidd].