Sometimes Good Guys Don't Wear White, I'm Not Like Anybody Else, Five Years Ahead of my Time. The misfit world has long been a unifying factor in the music scene. For every megastar with beaming Chicklets smile, you have hundreds of thousands of faceless guys and gals slogging through a career with a fair share of crappy motels and substandard meals. It's rare to walk up to a music fan who cannot reel off a laundry list of supremely talented individuals who subsist hand to mouth—if they're lucky.
Part of the reason d'etre for this blog was to highlight those NYC folk who've gone through this or are currently going through this. While many musicians have somehow found a balance, others are not so lucky. Something I'm reminded of constantly. And even out of the success stories, it's hard to measure what the definition of "success" is.
I hate using a cliché, but Paul Collins' career definitely exemplifies one to a T. He's a survivor. A quick Google will lead you to Paul's many achievements in the power pop realm (as well as his sometimes contentious relationship with fame, and former bandmates.) Still, Paul is a pro. One cannot exist in the industry for over 40 years without having—not just a strong backbone—but being a bit ornery as well.
Yet, everyone has to decide when it's time to call it quits. And Paul has recently decided to gracefully close out his powerpop career with not just one, but two career highlights.
I Don't Fit In is not just an autobiography, but also an overview of the heady time he was a member of The Nerves and The Beat. Two of the genre's most exemplary and revered groups.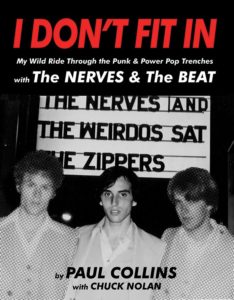 Discussing the book with Paul not too long ago he mentioned that it was in the planning stages for the longest time. Tracing its roots to when he was in Spain and going through a particularly difficult tour. The book started off as a semi-autobiographical exercise complete with anonymized names. While he did find someone to publish it in Spanish, he found no takers for an English language version. Disappointed, but undeterred, Paul eventually relocated back to his hometown, NYC, and continued to record and perform.
In 2018 however, Hozak Records label owner Todd Novak approached Paul and asked him if he would be interested in publishing his story. The indy label, long known as a haven for supporting new artists had started a book imprint and was experiencing some success publishing artist autobiographies. Teaming him up with writer Chuck Nolan, they reworked and added to Pauls's original notes to create the definitive roadmap of his musical journey.
"Adding the bow tie to the package" (as Paul put it) is the release of Another World, a remastered collection of archival material that had only previously existed on personal cassette tapes that Paul had held onto for years. When I asked if there would be a volume two he replied "Nope, that's it!" His assuredness made me realize how serious he was in commemorating this chapter of his life in the most positive way. And for someone like Paul Collins, that seems sorta fitting. I can't imagine him saying goodbye on a less than stellar note.
In 2011 I happened to find myself in Japan as The Paul Collins Band made their first appearances ever in the land of the rising sun. While I completely understood how the band was respected in the US, I was totally unprepared for the outpouring of support they would receive on this short tour. While all the sets started with an enthusiastic audience, they always ended with a smiling, sweaty, beaming mob waving their arms and looking like they experienced the second coming.
While the band was razor-sharp, much of the success was in the way Paul slowly built the crowd into a frenzy. What's funny is that while I was amazed, Paul just smiled and took it in stride. As if he knew that this is what performers do. You just put on a great show for your fans. A fact further emphasized by what happened the following day. While my head was still buzzing from the enthusiastic crowd response, I asked Paul what his highlight was from the previous day. He replied excitedly that it was having the most delicious soup in the basement of the tallest building in Tokyo.
You can order I Don't Fit In from Hozak Records and Books at this link. Another World can be ordered from Bomp Records here.