In the midst of all this craziness going on around the world. It's nice to be reassured of some things.
Like most folks, this situation has given me some time to dive back into things that I've put off forever. In this case, it's scanning old negatives that haven't seen the light of day in over 30 years. Neatly filed away in glassine envelopes, the hundreds of negatives I accumulated documented all the things that a young person with a bulk roll of Tri-X and unlimited darkroom access could ever wish for. To my surprise, scattered amongst images of my Queens neighborhood, college pals, photo experiments, and pets I discovered some of my first forays into live band photography.
There were some nice finds among the various band shots. For instance, I found a couple of images of legendary hardcore punk band Ism playing the small rathskeller in my college's student union building, Marshall Crenshaw touring behind his first record there, as well as an unknown (but somehow familiar) mystery rockabilly band.
Now while Queens College really wasn't a stop for bigger bands, it did amazingly get some reasonably well known smaller groups to play on campus like The dbs, Robert Gordon, R.E.M., and surprisingly, The Ramones. Whose performance in the plushly upholstered Colden Auditorium left in it's wake a plethora of broken seats. There certainly was no stoppin' the cretins from hoppin' that night. That little incident effectively banned ALL rock bands from performing the auditorium for decades. Nevertheless, the Student Union was always available for gigs.
But, as I searched my memory for a clue to the rockabilly band's name, I kept coming up with nothing. Just as I was ready to admit defeat, I crouched over my light table and spotted the band's logo prominently emblazoned on the negative image of the kick drum. Squeaky Clean.
Squeaky Clean by contrast weren't as well known as the other bands I mentioned. At that time the band had been around for only a year or so and had just released an EP and were doing the usual NYC club rounds. Somehow a copy of their EP wound up at the college's newspaper office where I was the photo editor. That, in turn, led to someone writing about them and yours truly winding up in the rathskeller, camera in hand. While I was already firmly indoctrinated into 60s garage punk sounds, their 50s retro approach with an 80s twist nonetheless intrigued me.
After having ID'd them, curiosity led me to do a quick Google to see if there was any music online to further refresh my memory. I reasoned that if I could easily find a rare unissued 60s garage punk acetate on Youtube, there had to be something as pedestrian as an unknown mid-80s rockabilly band from NYC. To my surprise, what I found instead was the band's website. Apparently, the group was still in existence.
After I picked myself up from the floor, I sent off an email to them and mentioned how I happened to come across their site. I soon received a nice reply as well as a quick recap of the band's career from Glenn Manion, the band's guitarist.
"We pursued our musical success fantasy for a number of years. Our six-song EP that we put out in 1984 (right around the same time your pix are from, judging by hair styles, lack of glasses and PA gear) got some good attention even though we had no idea how to promote it. We were a lot smarter when we released a full LP in 1987, but by then it was harder to stand out from other DIY records (this was way before YouTube, remember).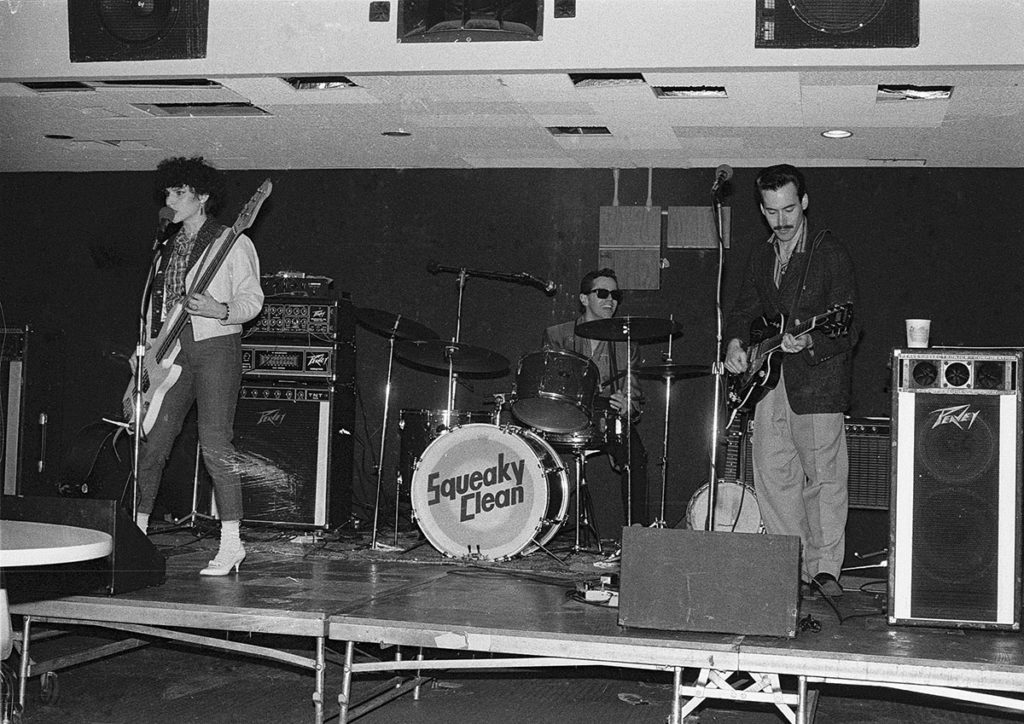 We did win a "Best Unsigned Band" award in 1989, but by then it was clear that our sensibility was not in sync with what major labels were signing.
So we decided to keep on playing the music we love and try to find our own audiences. We put a kid-friendly spin on our presentation and did school assembly programs. We discovered that senior citizens liked our approach to old-school rock and roll, so we developed a presentation for them. Basically we just kept at it, reinventing ourselves as the times required and learning how to do more types of music well.

We were never part of the club scene other than our own shows. Once we started a family, hanging out and making the scene was no longer possible."
As an interesting side note, Glen mentioned that the band's logo was created by their good friend, graphic designer, and artist, Marlene Weisman. While the band members weren't involved in the eighties club scene, Marlene most definitely was. Her involvement led to designing many of the print ads, promos, and logos for bands and clubs during that time. Most notably, The Peppermint Lounge's weekly ad for the Village Voice. A quick followup email to Marlene confirmed not just her involvement but also her kindness in offering to contribute some of her Pep ads to this site.
While Marlene moved from the music work to TV work and scored plum gigs doing the graphics for several well-known late-night shows, she still found time to create visual art in a city climate that does not cater to that. A point that was further driven home when Marlene mentioned that she was currently in the process of helping her non-profit artists' group find new space.
While it's too easy to wrap this up this post with the often-repeated trope of creative people following their muse despite the odds, it's kind of hard to avoid it in this case. Amazingly, despite the hardships that both Glenn and Marlene faced in their fields, they still managed to hold onto what they loved to do. And if anything is a testament to the spirit of this site, that surely is. Kudos guys.
Below is a clip of Squeaky Clean performing an original, "Cops & Robbers", on Manhattan Cable around 1984.