If this site had a patron saint, it would have to be The Vipers. For the short period that they existed, they not only laid the ground work for the scene but also inspired innumerable others to take up the cause. To this day, even garage music fans in Japan know about them. So, to know that the first LP was never properly reissued was truly a crime. One that ex-Viper Paul Martin was happy to take on.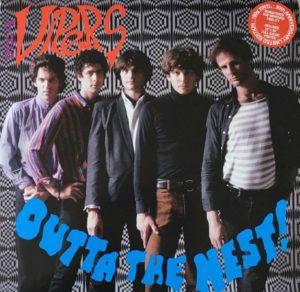 Now the fruits of his labor of love are available for anyone to purchase. How good is this album? To quote Mike Stax in Ugly Things fanzine "The Vipers set themselves apart with superior songwriting chops and a melodic, harmony-based sound that was closer to the Knickerbockers and the Turtles than the Seeds or the Music Machine. While other bands got by on attitude and bluster, the Vipers used finesse, a quality that served them particularly well on Outta the Nest!"
While the disc does not have any extra tracks, the sound was remastered from a pristine original pressing and pressed on heavy vinyl. To say the sound jumps out at you is putting it mildly. Its an amazing job considering the material. A 24″ x 36″ poster rounds out the package.
Garage music die-hards can do themselves a favor and pick up the vinyl straight from the source. Rocka-Rola Records 101A Clay Street, San Francisco, CA 94111. $25 (US & Canada). Paypal devotees & inquiries: vipersnyc@yahoo.com!